Working with mouse to edit:
First 'single mouse click':
Make that field current; the rectangular box is shown around the field of the cursor position. The program is still in 'move mode'.
Second 'single mouse click' on the same field:
Put the cursor at the position of the mouse. So now the program is in 'edit mode'.
Select the whole text of the field where the mouse is positioned. You get the same result as with function key 'F2'.
A second 'double mouse click' puts the cursor at the last known position.
Drag (keep left mouse button down):
Expand the selection starting with the current field in the direction of the movement of the mouse.
Drop (left mouse button up):
Do not expand the selection anymore.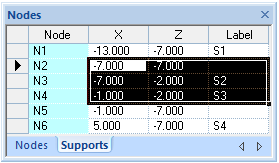 Working with mouse to select:
When you have made a selection like the above situation and you point the mouse cursor at the little at the right end of the rectangle, you see a different cursor type. When you pick that point with the mouse and drag down or up, the selection is expanded in vertical position.
When we drop the left mouse button all the selected rows will be filled with data of the selected fields of the first selected row. In the fields which are not present in the selection, the defaults for these fields are displayed.
When selecting one or more fields in 1 or more rows, the 'cut, copy, paste clipboard' will be available.